We all know that considering security and safety in housekeeping is crucial for the overall organization and right here we'll know about how to ensure security and safety in commercial places, organizations, societies, and many more through good housekeeping services.
Security and Safety:
Safety: It refers to keeping a place safe from accidents because of unfavorable conditions by maintaining tidiness which leads to a safe place to work in by providing freedom from hazardous injuries, wounds and also keeping property away from damage.
Security: it refers to the protection of employees' lives from fatal emergency situations like fire accidents, slip, and fall accidents, and many more by paying attention to small things (because every fatal accident happens because of small unseen mistakes.
In commercial places, Hotels, organizations, societies, etc. there is a high risk of accidents and fatal emergency situations occur but the Maintenance department and Housekeeping departments are the two departments which highly affected by it because of a large number of people working in that department than other department and they involved in physical activity, machines (which sometimes may lead to harm because of improper working or any technical issue) and equipment which increases the risk of injuries.

Request A FREE Quotation. Now!


Causes of accidents that happen in Workplaces:
Commercial places can be more fatal if we don't maintain tidiness and do not pay attention to taking care while working. There are several hazards that can be behind accidental emergencies but here are some of them which are common and lead to more usual irregularities in workplaces by compromising with security and safety in housekeeping:
Improper electricity: Poor lighting and improper electricity is the reason behind numerous accidents happening by interrupting work which is basically dependent on machines. Eg.: if one worker is operating a machine for work purposes and that machine got stopped because of poor electricity and the worker is snooping with the machine about what happened, why is it stopped? And then the machine starts suddenly so it can surely lead to a fatal situation for workers. Sometimes wiring of electricity can be the reason for short circuits, electric shocks, and more. So it's a crucial part that every organization should pay attention to.
Keeping Hazardous Materials in the wrong place: Keeping and handling hazardous materials is too important in everyday safety measurements like we can't put soil and fire catching substances near warehouses or electrical boards etc. Even not wearing PPE is another usual reason for emergency situations in commercial places. In the workplace, every material should be placed as per their safety data sheet for avoiding accidental situations.
Trips and Falls: Any slippery thing on floors like pens, plastic bags, or any kind of garbage on floors and high-traffic corridors can cause slip and fall accidents. It can be majorly avoided by good housekeeping services which basically leads to tidiness by avoiding these types of things.
Miserable mental health: Healthy and positive mindset = Overall organizational growth and more productivity. Stress puts humans in every imaginable situation which leads to unconsciousness by affecting their social, psychological, and emotional states. So it's very important to encourage teams by building positive relations. It can be avoided by giving small breaks in between works, keeping the place clean, giving compliments for great works, and so on.
How to reduce safety risks
● The particular housekeeper or a professional cleaner must pay attention to even small things while cleaning and maintaining.
● He should be familiar with a safety training program.
● Must be able to develop procedures to prevent fatal accidents.
● Should be aware of everyday rules which lead to regulating the workplace in a secure and safe manner.
Effective ways for Security and Safety in Housekeeping:
Housekeeping work, no matter whether it is in hospitals, organizations, commercial places, or hotels, can be dangerous because it includes physical activities. There has been progress in minimizing accidents, emergency situations by increasing security and safety in housekeeping in the past few years but it seems to take a little longer to make safe housekeeping. Facility managers, executives should ensure the security and safety of employees while cleaning and maintaining workplaces. Here are some of the ways that they can use for ensuring.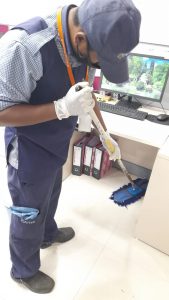 Security and safety of employees:
Admin or Facility Managers should examine every step while housekeepers working, cleaning, and maintaining commercial places for checking security and safety by their end. Reviewing it can also help in reducing some steps from the overall task by applying strategies in it and it may lead to task completion in an easier and time-saving way.




Similarly, identifying risky situations can also help in building safety rules for preventing accidents. Risky hazards can happen because of lifting heavy objects, warehouse or electric things respiration, chemical exposure, trip and fall accidents as many more. Sometimes working alone can become risky so it is recommended that if you're working in commercial places then you should take help(if needed) from others rather than doing it on your own.
● With the completion of safety and security rules, determination of which task needs which PPE(Personal Protective Equipment ) is also part of preventing and securing employees from injuries.
● Try to tell employees to wear gripped footwear because commercial places, organizations, and offices often get cleaned and especially while mopping floors can be slippery which leads to slip and fall accidents but in case of that gripped footwear can avoid it.
● While cleaning is performed a warning sign should always be there for making other employees alert of that and also it should be removed after work completion is done.
● We all know that every sanitization product, disinfection chemicals, detergents and all products used in cleaning work are laced with lots of chemicals in it and sometimes some of the chemicals can lead to allergies, infections in employees so it's a crucial part that admin or facility manager should make sure that only green(because Eco- Friendly products are basically not harmful to employee and nature too) cleaning chemicals should use while cleaning by housekeepers.
● Garbage classification must be done in every commercial place as dry garbage, wet garbage, chemical hazards, and biohazards. Because every type consists its specific consequences.

 Request A FREE Quotation. Now!


Although explaining security and safety in housekeeping is too vast, yes I would like you to tell you that every behind every fatal situation there is a very unseen minor mistake that should be donned. Hiring professional cleaning services adds fortune in the Safety of the workplace by their skills and professional touch.
By Vaishnavi Salvi.
---
Read More…