Self-storage facilities.



Also Read: Top 8 Benefits of Commercial Cleaning Services for your Business 

Top four benefits of industrial cleaning:

1. Save environment:
Many professional industrial cleaning companies are consciously trying to reduce carbon dioxide emissions and environmental damage by using environmentally friendly products instead of harsh chemicals.
This more environmentally friendly approach also creates a healthier and safer work environment for employees and customers. In some industries and facilities, clean workplaces can reduce employee accidents, mutual pollution, and the spread of illness and infection.
2. Increased Productivity:

It's no wonder that a clean and healthy work environment improves employee well-being and satisfaction. Happy employees achieve higher productivity. Employees can entirely focus on their assigned work if they are not interested in their surroundings or cleaning work.
Professional industrial cleaners also promote the effective organization of tools, and equipment, ensuring that everything is clean and in its place. Increasing employee productivity often offsets the cost of outsourcing to a professional cleaning company.

3. Save Money And time:
By reducing accidents and illnesses among factory workers, companies can save cost around hundreds or even thousands. Regular cleaning of machines and systems minimizes dust and dirt build-up, prolongs the system's service life, and improves the business profits.
Professional industrial cleaning companies have the products, staff, and expertise to clean factories efficiently, floors, and industrial machinery, saving a lot of company cleaning time.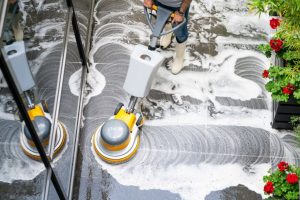 4. Professional Result:
Businesses can rest assured that their facilities are clean and can accommodate customers and unexpected visitors. First impressions can be critical to a company's success, and a clean work environment stimulates trust with potential customers.

Professional industrial cleaners also help businesses meet their cleanliness and safety requirements. Whether a furniture warehouse or a scientific laboratory, a clean working environment means excellent service and product quality.

Request A FREE Quotation. Now!

Conclusion:

Hazards at work can be managed or eliminated with practical industrial housekeeping. Lack of effective housekeeping often leads to occupational accidents.
We specialize in cleaning industrial and commercial facilities. Our facility management services include industrial, commercial, and residential cleaning. We help your company increase its credibility, maintain a healthy working environment, and show environmental awareness.
We provide professional industrial cleaning services through experienced professionals with extensive knowledge of the chemicals, equipment, and tools needed to complete projects of all sizes. Hiring our services are hassle-free. Contact us today or make an appointment with us for a cost-effective consultation.
Written by : Renu Pal